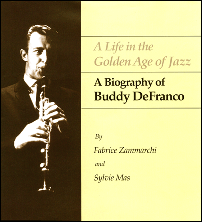 A Life in the
Golden Age of Jazz:
A Biography of
Buddy DeFranco
By Fabrice Zammarchi and Sylvie Mas

Edited and designed by Malcolm S. Harris
ISBN No. 0-9617266-6-0

NEW REDUCED PRICES:
REGULAR EDITION (Postpaid):
$45 for USA and Canada
$70 for other countries
COLLECTOR'S EDITION (Postpaid):
$80 forUSA and Canada
$110 for other countries
A Life in the Golden Age of Jazz presents the fascinating story of one of the "senior statesmen" of jazz: Buddy DeFranco, who is generally regarded as the greatest jazz clarinetist of all time. We believe this is the most comprehensive biography ever published about a jazz musician.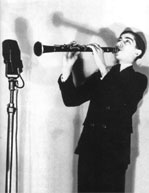 Buddy began playing professionally in 1935, at the age of only 12, helping his blind father support a poor family in South Philadelphia. Now 79, he has begun his 67th year as a professional musician, still accepting new challenges and playing with new partners.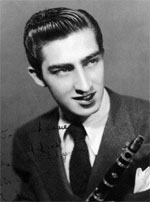 Born in 1923, Buddy has lived through almost the entire history of jazz. He began a career "on the road" at the age of only 16, playing in many of the big bands which became the hallmarks of the Swing Era: Gene Krupa, Charlie Bamet, Tommy Dorsey and Boyd Raebum. He participated in the origins of the Bebop Revolution in New York in the 1940s, making significant contributions to the harmonic concepts of that movement while playing with Charlie Parker, Lennie Tristano, Dizzy Gillespie and all the great protagonists of that "hot house" period in American music. He was featured with the legendary Count Basie Septet in 1950 and then led his own big band in 1951. From 1952 to 1956, Buddy led his own Quartet, one of the greatest small groups in the history of jazz, which included, at various times, Kenny Drew and Sonny Clark on piano. Milt Hinton and Eugene Wright on bass and Art Blakey and Bobby White on drums.