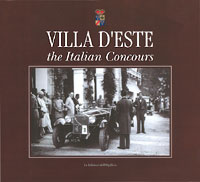 Villa d'Este:
The Italian Concours
by Angelo Tito Anselmi

$110 postpaid in USA and Canada
US$120 postpaid other countries
How to Order
We are pleased to announce that Parkside Publications has been appointed the sole North American distributor for Villa d'Este: the Italian Concours, a beautiful new history of the classic editions of Italy's most famous Concours d'Elegance. The "Coppa di Oro di Villa d'Este" (known in some years as the "Coppa d'Oro Principessa di Piemonte") was held in ten editions, annually from 1929 to 1937 (except for 1936) and twice after the War (in 1947 and 1949). Italy's most luxurious hotel, the Villa d'Este on Lake Como, served as the perfect venue for the event. The Concours immediately became the most prestigious annual gathering for Italian coachbuilders and the most important venue for the debut of new Italian coachwork. A prize at Villa d'Este was the most coveted award an Italian coachbuilder could hope to receive. Although the historic Villa d'Este Concours was a showcase for new designs, in recent years the event has been revived as a show for classic vehicles from many countries and has again resumed its place as one of the world's most prestigious automotive events.
This beautiful book has been researched, written and designed by Italy's most authoritative automotive journalist, Angelo Tito Anselmi. Published by Le Edizioni dell'Opificio of Milano in side-by-side Italian and English texts, the book has been produced in a large 10 x 11 inch format, in a slipcase, with 230 pages and 120 full-page photos. The fascinating historic photos are beautifully reproduced in duotone; most have never been previously published. They graphically illustrate the style and the ambiance of the period and document the beginnings of Italy's ongoing celebration of the art of automotive design.
Mr. Anselmi reviews the history of each annual Concours, primarily relying upon excerpts from contemporary newspaper and magazine reviews of each event. The book also includes a special section reviewing the Alfa Romeo 6C2500 Super Sport "Villa d'Este" Coupe by Carrozzeria Touring, which took its name from the fact that it won the Grand Prize in the public referendum at the 1949 show. The book concludes with tables which list all of the awards given at the ten events held between 1929 and 1949.
This lovely book will be a treasured addition to any automotive library. It sells in Europe for Euro 95. (approximately $120). Due to a special purchase, we are able to offer the book in the USA and Canada for $85 and in other countries for $120. These prices include shipping to any address in North America. Only 300 copies have been allocated for the North American market. Order your copy soon to insure availability.